CANON EOS MARK IV 30, 4 MP
In the Field with the
Canon 5D Mark IV
Continuing on in their legacy of powerful workhorse cameras, Canon has released the5D Mark IV DSLR which is an outstanding still photography option and an able 4K-capable video machine. This multimedia maven offers a newly developed 30.4MP full-frame CMOS sensor paired with the DIGIC 6+ image processor in order to balance fine detail and resolution with low-light performance and sensitivity. It is able to work within a native range of ISO 100-32000, which can then be expanded to an impressive ISO 50-102400, for sharp, low-noise images in a variety of conditions. Along with these improvements to image quality, users will enjoy a performance boost across the board with an enhanced AF system, built-in Wi-Fi, NFC, and GPS, and much more.
In order to deliver detailed images quickly and effectively the 5D Mark IV leverages the power of the DIGIC 6+ image processor, which can handle up to 7 frames per second during continuous shooting. It also uses a 150,000-pixel RGB+IR metering sensor to evaluate the scene and subjects for accurate exposures under a variety of different lighting conditions. An improved 61-point High Density Reticular AF furthers the camera's speed by tracking and locking onto subjects quickly and accurately for tack sharp photos. A new AF area select button is now available as well for near immediate access to this setting.
Video benefits from the addition of Dual Pixel CMOS AF and Movie Servo AF to smoothly rack focus during a shot. Shooters can even make use of the 3.2" 1.62m-dot touchscreen LCD to simply tap to adjust the focus point. Furthermore, now that the camera has DCI 4K (4096 x 2160) video recording at up to 30 fps, users can snag 8.8MP stills from the video for an even faster capture option. Tied into the Dual Pixel sensor architecture is a brand new feature for Canon: Dual Pixel RAW, which allows for fine tuning of certain image parameters, including bokeh shift and focus micro adjustment, after the image is taken.
The body has been further refined for comfort and ease of access, as well as durability and weather resistance. The Canon N3 remote port has been relocated to the front of the camera body and they have added both GPS and Wi-Fi with NFC to make this model a connected camera.
30.4MP Full-Frame CMOS Sensor and DIGIC 6+ Image Processor

In line with previous members of the main 5D series, the Mark IV attempts to balance high resolution with low-light performance with a newly developed 30.4MP full-frame CMOS sensor. This provides a beneficial increase in overall resolution without compromising on sensitivity. Additionally, thanks to the DIGIC 6+ image processor it is paired with, it offers impressive performance within a native range of ISO 100-32000, which can be expanded to ISO 50-102400.





Versatility is key with the 5D, as it needs to be able to tackle landscapes and weddings with equal ease. By using a 150,000-pixel RGB+IR metering sensor shooters will be able to more comfortably rely on the camera to capture difficult scenes. This sensor also has face detection as well as flicker detection which can ensure proper exposure in less-than-ideal lighting situations. Along with this, the camera offers an improved continuous shooting rate of 7 fps, making it a great option for events and action.
High Density Reticular AF and Dual Pixel CMOS AF Systems

Ensuring your subject is tack sharp, the 5D Mark IV incorporates an enhanced High Density Reticular AF system, which offers 61 phase-detect points, with all points sensitive to f/8 and 41 of which are cross-type. The center point can function down to -3 EV for working in extremely dim lighting. Compared to previous versions, this sensor has expanded vertical coverage of 24% on the peripherals and 8% in the center in order to better track and locate subjects in the frame.





In addition to advanced tracking and focusing while using the optical finder for stills, Live View and video can now use Dual Pixel CMOS AF on the actual imaging sensor. This offers about 80% coverage of phase-detection autofocus for faster and more accurate focusing in these modes. It is ideal for video as users will enjoy smoother rack focusing without the downsides normally encountered with contrast-based systems. Also, this works well with the touchscreen functions, allowing shooters to just tap to adjust focus.
DCI 4K Video Recording

Designed for both professional stills shooting and video recording, the 5D Mark IV supports DCI 4K (4096 x 2160) resolution recording at up to 30 fps at 500 Mbps, along with Full HD 1080p shooting at 60 fps and HD 720p at 120 fps for slow motion playback. When recording in-camera, 4K video has 4:2:2 sampling and 8-bit color depth, while Full HD 1080p footage has 4:2:0 sampling. Uncompressed Full HD 1080p video can also be saved via HDMI to an optional external recorder with 4:2:2 color sampling. 4K video is recorded using a central 4096 x 2160 area of the sensor at a 1.74x crop in order to record video with an ideal 1:1 pixel sampling ratio, while Full HD recording makes use of the entire full frame.





Audio can be recorded using the on-board stereo microphone or an optional external mic can also be used via the 3.5mm mic jack. Real time audio monitoring is possible, too, via the 3.5mm headphone jack. The 4K video recording also avails the ability to take 8.8MP still frame grabs during playback on the rear touchscreen and save them as single images.
Dual Pixel RAW

First implemented here on the 5D Mark IV, Dual Pixel RAW allows photographers to record all the information the sensor's unique pixel architecture can deliver, providing a way for fine adjustments to be made after the image is taken. These adjustments include focus fine tuning that can help you ever-so-slightly adjust the focus point to bring out extra details, shift bokeh around for improved composition, and reduce the impact of ghosting on your photos. This requires the use of Canon's Digital Photo Professional 4.5 software.
Body Design

A large 3.2" 1.62m-dot Clear View II LCD monitor is available and features an anti-reflective design for bright, vivid image playback and live view shooting, and its touchscreen interface can be used for intuitive touch-to-focus control and adjusting settings in the menus.

A dedicated AF mode selection button located beneath the rear joystick offers another avenue for accessing settings, allowing for fast, intuitive access to commonly changed options.

Dual CompactFlash and SD memory card slots allow you to extend your file saving capabilities by permitting overflow recording or in-camera file type separation while shooting.

An Intelligent Viewfinder II uses a pentaprism design and offers a bright means for viewing. When using the viewfinder, AF points are highlighted in red for greater visibility in low-light conditions, and the finder can also be configured to display a range of other shooting aids, such as an electronic level, grid, flicker detection, white balance, metering mode, AF information, and other settings.

A Mirror Vibration Control System helps to minimize mechanical vibrations in order to better ensure sharpness during long exposures or fast continuous shooting bursts.

A robust magnesium alloy body design is both dust- and weather-sealed to permit working in harsh environments.
Other Camera Features

A built-in GPS module allows you to geotag imagery in-camera as well as auto time sync with the Universal Time Code via satellites. This module is compatible with American GPS, Russian GLONASS, and Japanese quasi-zenith Michibiki satellites for a wide coverage of support.

Digital Lens Optimizer technology compensates for a range of optical defects from various lenses, including chromatic aberration, distortion, peripheral brightness, and diffraction, and the camera can store lens data in order to avoid having to re-register lenses prior to each use. The camera can handle this process in real time, delivering JPEGs with the corrections already applied.

A built-in intervalometer permits the creation of time lapse imagery and supports recording 1-99 consecutive frames in pre-selected intervals from 1 second to 99 hours 59 minutes and 59 seconds. Users can also choose to set the camera to unlimited frames.

Built-in Wi-Fi and NFC connectivity enable wireless sharing, control, and image transfer with a compatible smart device as well as the CS100 Connect Station.
While the "professional" 1D series may get the title of flagship DSLR, it is Canon's 5D series that gets all the attention. With the release of the EOS 5D Mark IV a few months ago, we received a variety of highly anticipated new features, including a higher-resolution sensor, improved low-light performance and dynamic range, Dual Pixel technologies, and 4K video recording. So, what did I think after spending some time with the camera? Well, it's an easy decision if you shoot with any existing 5D-series body and want the ideal all-around performer, but there are a few limitations for certain users.
Build and Handling
If you have seen or handled a 5D Mark III, 5DS, or 5DS R, you have pretty much used a 5D Mark IV. Not much has changed, and not much really needed to. There are a few nice additions, however, including an extra button on the rear that provides another method of quickly accessing your settings and a higher-resolution rear touchscreen that I enjoyed—something rare for me, since I dislike them. The touchscreen works for changing settings, as well as for tapping the screen to focus, which works wonderfully in live view and while shooting video. Beyond this, it is largely the same camera as before and is very comfortable to handle and hold.
Image Quality
Canon has been making numerous advancements with its CMOS image sensors in the past few years, starting with the 50MP CMOS sensors in the 5DS and 5DS R. The Mark IV doesn't quite reach that resolution, but it does get a nice bump to 30MP that will keep things manageable while providing plenty of resolution for more demanding printing applications. As I'd written in Canon Camera Wars: 5D Mark IV versus 5DS and 5DS R, a previous article comparing all the current 5D series cameras, the Mark IV is the perfect all-around camera, offering good resolution with excellent speed and low-light performance, and I stand by that statement after using it.
One significant upgrade in the Mark IV is a vast improvement to dynamic range and a greater ability to push and pull the raw files in post. Earlier cameras would start to show noise very quickly if you tried to pull up the shadows dramatically while editing. The Mark IV, however, allows users to expose for the highlights and then pull up almost pitch-black areas to reveal detail without suffering from tons of color noise. I have personally seen this issue many times, and am glad to see this change.
Low-light shooting hasn't changed drastically—only about 1/3 stop improvement, but when you combine this with the higher-resolution sensor, it is still a nice upgrade. I would feel comfortable shooting at up to ISO 12800 for most situations, and could probably push that to 25600 if I really needed to. It is good to see significant changes to the image capture system, which provide photographers with more control over their images in post.
Performance and Connectivity
A few other upgrades come with the autofocus system and the connectivity options. The AF system is an expanded 61-point system that is like the 1D X Mark II, and it is extremely fast and accurate, even in low light. This is one of those features that you don't even think about because it just works. Changing AF modes and coverage is easy, thanks to the new rear button, and the coverage is wide enough to cover most subjects with ease, even during tracking. Of course, there are numerous ways to program the AF, as well, meaning you can fine-tune it to do exactly what you need. Additionally, it works very well with the high-speed 7 fps continuous shooting.
On the connectivity side of things, there have been a couple of tweaks made. First and foremost is the addition of built-in GPS. For those clamoring for geo-tagging tech like the 6D, you finally have it. The Mark IV also comes with what is effectively the new standard of Wi-Fi with NFC. Canon's app works well, so you can quickly transfer photos or even take control of the camera.
Dual Pixel Technology
This is surprisingly deserving of its own section, since the 5D Mark IV has two new features related to Dual Pixel tech. First, it gains Dual Pixel CMOS AF, first found in the 70D, which provides outstanding autofocus performance in live view and while shooting video. It is surprisingly accurate and fast and, with the use of a touchscreen, it becomes very easy to use. If you have seen it in action on previous Canon bodies, it isn't very different here, but it is very helpful to have on a professional full-frame camera.
Next, we have the most intriguing new feature of the Mark IV: Dual Pixel Raw. Many questions were raised when Canon mentioned this, when the camera was previously announced, with many people wondering if this was some sort of Lytro-esque technology. Unfortunately, it doesn't take things quite that far, and merely offers slight adjustments to your photos in post. To use it, you must use Canon's Digital Photo Pro software for editing the images and it gives you a few tools to help save an image.
Bokeh Shift can have surprising impact on your photos, and can help move some elements just where you need them.
This tool set includes focus micro adjustment, letting shooters move the point of focus a little bit to ensure the sharpest focus is exactly where it needs to be. This won't save completely misfocused images, mind you, but it can help account for the millimeter or two that you were off when you moved slightly between focusing and taking the shot. There is also a bokeh adjustment, which is more interesting, and lets you change the shooting angle ever so slightly. I found this to be more significant of a change compared to the focus adjustment, and here are some samples of the most extreme changes that you can make.
There are a couple of other settings, as well, including diffraction correction, but with most major editing tools already offering effective tools themselves, it's hard to justify adding another piece of software to your workflow just for this reason. One other issue I had was that only one of these settings can be used at a time, so you can't shift the bokeh and do focus adjustment or diffraction correction for an image at the same time. It is an interesting tool, for sure, but I'm not sure many people will really find a use for it.
A Word on Video
Compared to the groundbreaking achievements in video quality made by the Mark II and the Mark III, the Mark IV doesn't quite hit those heights, but it does add some desired improvements. The primary upgrade is DCI 4K recording, and now via an optional paid upgrade service through Canon, you can get C-Log in the camera. It is still missing many critical features, such as zebras and peaking, uncompressed 4K output (HDMI is Full HD only), options for better codecs, and more. Rolling shutter is also noticeable, making it a difficult camera to use handheld. And, it will only record 4K video with a massive 1.74x crop. The overall quality of the video is very nice, however, if you can get over these limitations. And pulling 4K stills after recording is simple if you want to experiment with that capture technique.
Conclusion
The 5D Mark IV is an easy upgrade if you are a professional Canon photographer—it gives you practically every upgrade you could possibly hope for in terms of image quality and performance. If you need it for video too, well, it may not be the best but it will work in many controlled situations. Canon seems to be targeting still photographers with this camera. Many shooters who moved to Canon strictly for video may be upset, but I find it an interesting and good move for Canon to focus on the core aspect of its DSLRs.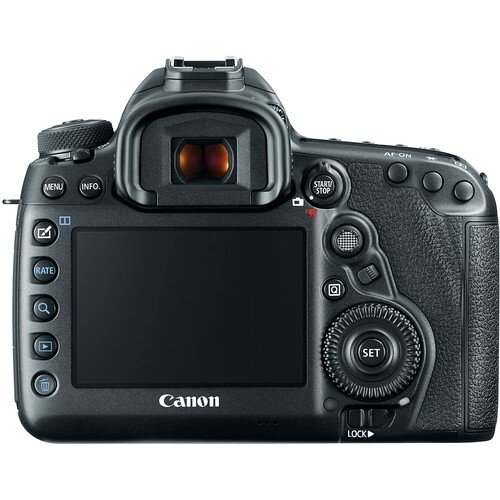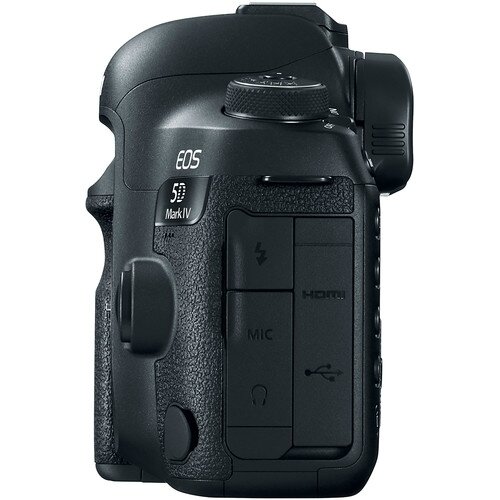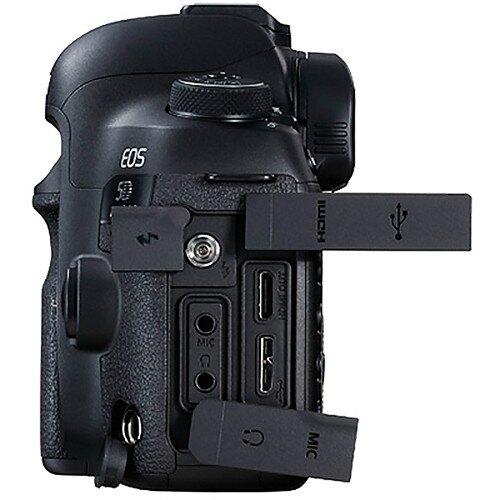 Canon Camera Wars:
5D Mark IV
versus 5DS and 5DS R
While it may be a little unfair to present this as a "versus," the introduction of the 5DS/5DS R and 5D Mark IV over the past couple of years has made the camera-buying decision a little more complicated. Photographers, especially, may be curious about whether they should pick up the specialized high-res option, and then decide which of those to buy, or to pick up the latest iteration of Canon's legendary 5D lineup. Hopefully this quick run-through will help you out.
Megapixels and Resolution
This is the easiest place to get started. The 5DS and 5DS R are equipped with 50.6MP full-frame CMOS sensors, while the 5D Mark IV has a 30.4MP full-frame CMOS sensor. The 5DS cameras win easily here. If your work relies on having the most detail and resolution possible, such as with product, macro, or general studio work, the 5DS R is the obvious choice, since its low pass filter cancellation effect guarantees the maximum resolution. Now, if you shoot a lot of fine patterns, such as clothing, you may want to opt for the 5DS, which retains the OLPF effect for reducing and eliminating moiré and aliasing.
Video
This is another no contest category, but the other way around this time—the 5D Mark IV's DCI 4K video and various other settings and capabilities blow away the basic Full HD 1080p30 option of the 5DS. The Mark IV's Dual Pixel CMOS AF system is awesome for video. If you are a hybrid videographer/still photographer, the 5D Mark IV is a no-brainer.
Low-Light Performance
This is more a question of need rather than want. If you consistently find yourself bumping up the ISO, such as in a dim wedding venue, concert, or just out on the street, the 5D Mark IV's lower-resolution sensor also brings with it a much improved native sensitivity range of up to ISO 32000, which can be expanded to ISO 102400. The 5DS, on the other hand, has a comparatively low native range of up to ISO 6400, which can only expand to ISO 12800. Simply put, the 5D Mark IV is a documentarian's or street photographer's camera (and other similar specialties), while the 5DS remains firmly planted in the landscape photographer, studio shooter, or strobist's toolkit.
Speed for Sports or Wildlife Photography
This is a more surprising comparison, since you would expect the lower-resolution Mark IV to really take it without question, but the 5DS puts up a great fight. Both manage to pack in a 61-point High Density Reticular AF system, which should do a wonderful job on a plethora of tough subjects, but they begin to separate on continuous shooting speeds. The Mark IV takes the lead, with 7 fps, and the 5DS is just behind with 5 fps. The 5DS's impressive speed is likely due to having Dual DIGIC 6 processors, compared to the Mark IV's single DIGIC 6+. For more practical concerns, the 5DS offers a neat trick—the ability to crop to either 1.3x or 1.6x, giving shooters a bit of extra "reach" without requiring extra cropping in post. But, with the Mark IV's faster speed, improved low-light performance, and smaller file sizes, most sports photographers will choose the Mark IV instead.
Operation
The 5D Mark IV has a leg up here, likely due to its more recent release date and a further refinement of features. It gains touch capabilities on its rear LCD, as well as a dedicated AF Area Select button. These two additions may seem minor, but when you are looking at two extremely similar camera designs, the smaller things like this make all the difference. Realistically, other reasons should push you to pick one or the other besides an extra button or touchscreen.
Extras!
If you had your mind just about made up when it came to these cameras, there are a few more fancy features and settings that could make things somewhat difficult if you were on the fence one way or the other. The 5DS/5DS R doesn't have as many unique options, so let's start there. This includes a Fine Detail Picture Style and a Mirror Vibration Control system and Time Release Lag setting for eliminating camera shake. The Mark IV takes the cake when it comes to fancy features, with the newfangled Dual Pixel RAW technology, built-in GPS and Wi-Fi with NFC, and Digital Lens Optimizer technology for JPEGs. This is all going to come down to personal preference.
What about the 5D Mark III?
In an interesting move, Canon did not discontinue the 5D Mark III when they announced the Mark IV. This means that users looking to pick up a 5D-series camera do have one other option available. The Mark III is an older model at this point, but still an incredibly good camera. It sports the lowest resolution on the list at just 22.3MP, but these days most shooters don't really need much more than that. It isn't quite as sensitive as the Mark IV, but its native sensitivity still reaches ISO 25600, which beats out the 5DS by a good margin. Also, its 61-point High Density Reticular AF system is quite good, but it just doesn't have as wide coverage as the newer models. Altogether, if you are looking to jump into full-frame at a lower price and don't need the added video features of the Mark IV and don't need the sometimes too-high resolution of the 5DS/5DS R, the Mark III is a great choice.
Which one of these canon cameras is right for you? Tell us in the Comments section, below.